Publication
1. Submit to Conference Proceedings (EI)
① The article conforms to the theme and requirements of the conference

② No repeated contributions to other conferences or journals
③ Original articles with experimental research data
④ Repetition rate is less than 35%
All papers, both invited and contributed, will be reviewed by two or three experts from the committees. After a careful reviewing process, all accepted papers of ICCEIC 2023 will be published and submitted to EI Compendex and Scopus for indexing.
2. Submit to Online Journal
If you would like your manscript to be indexed by Google Scholar, there is an international Journal for you.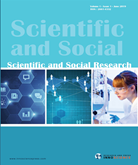 Scientific and Social Research(SSR) publishes papers devoted to quantitative social science research and methodology. The journal features articles that illustrate the use of quantitative methods to empirically test social science theory. The journal emphasizes research concerned with issues or methods that cut across traditional disciplinary lines. Special attention is given to methods that have been used by only one particular social science discipline, but that may have application to a broader range of areas with an ultimate goal of testing social science theory.
More information please conference secretary.
3. Submit to SCI journal
Selected 10 papers will be recommended for publication in SCI journal.
*Journal of Innovation & Knowledge(ISSN: 2530-7614,IF:9.269)
*Advances in Mathematical Physics(ISSN:1687-9120 ,IF:1.128,4区)
*Venture Capital(ISSN: 1369-1066,IF:3.000 )
More information please conference secretary